For the last five years, my family and I have been operating Kings River Party Rental. As we have been providing party rental equipment we have found a desire to grow that we might serve our community and those communities around us in a more excellent fashion.
In 2017 we became business partners with local caterers Rick Helm and John Moore. We bought out a local rental company Rent A Party, formerly owned by Joe Gutierrez as he was ready to retire. In April of 2017, we took over all operational duties of Bouncing Off The Walls.
We have learned a lot over the last year and are proud of the honest service we provide. You can count on the cleanest and well cared for equipment as well as the friendliest service when you rent from us. We look forward to serving you and fulfilling all your rental needs.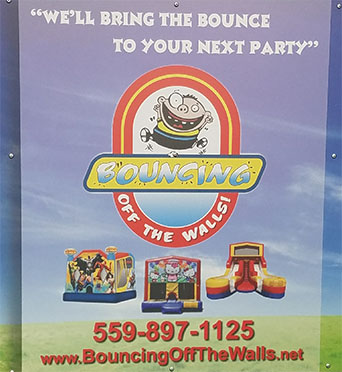 Delivered on time and installed by qualified technicians. Safety is our #1 priority. All of our units have a safety step, safety entrance, emergency exits and are flame retardant. When we deliver your bounce house we make sure the unit is anchored to the ground to prevent movement or tripping hazard. We clean the units and spray a sanitizer after every use. We take a lot of pride in the fact that our units are clean. We then conduct a full safety review with each renter. We also have Insurance on all of our units!
We want your event or party to be as successful as possible. All of our bounce houses are officially licensed and copyrighted. This means if you order a Disney® Princess bounce house that is what you will receive. The actual Disney® artwork, not a cheesy imitation. So if you're buying party supplies, it will all match. As you can see, Bouncing off the Walls! doesn't cut corners when it comes to safety or quality. Some competitors do and may charge a little less, but when you rent one of our units you will see the differences, and you will be glad you did.
We strive to provide the best service in the industry. We make sure you receive a clean, dependable, quality product.